NEWS — June 9th, 2022. The Recording Academy announced today they have approved the proposal that we advocated for to change the name "Best New Age Album" to "Best New Age, Ambient, or Chant album."
The proposal process has been an intensive 2 year project that helped catalyze our effort to create The Auricle Collective. What most motivated us to contribute to this effort was not awards and trophies, but simply the goal of having chant music be more visibly recognized and respected in the wider music culture as a genre unto itself.
This effort was led by a unified cross-genre team of fellow artists who have been a joy to work with. Auricle co-founder Seán Johnson wrote the proposal with ambient artist and producer Michael Starita; pianist Catherine Marie Charlton; and kirtan artist Madi Das. Our team of contributors included fellow Auricle founder Dave Stringer; composer Michael Whalen; oboe/french horn player Nancy Rumbel; ambient artist Greg Papania ; pianist Robin Spielberg; and Indian classical vocalist Falu.
Over 400 musicians, including many in our chant and spiritual music community, supported the proposal as signatories. In small meetings that the Recording Academy organized, fellow artists Reema Datta, Deva Premal, Moksha Summer, Benjy Wertheimer, and Hans Christian agreed to join as advocates. Jai Uttal, Jahnavi Harrison, and Gaura Vani also wrote inspiring statements supporting the proposal.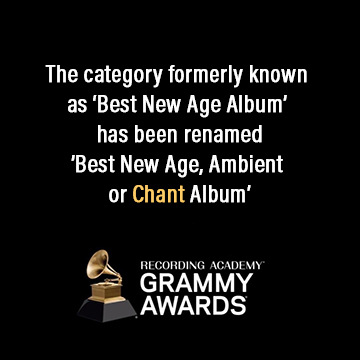 This new name:
1. Continues to honor artists who identify with the name and legacy of New Age while recognizing artists who make Ambient and Chant recordings who do not identify with the terminology in their artistic intentions and historical roots.
2. Promotes diversity, equity, and inclusion by avoiding the mislabeling of indigenous, folk, and spiritual musical traditions and adaptations, whose roots predate the term "New Age."
3. Will contribute to the growth of the Recording Academy and the richness and diversity of this category by attracting new members and entries from the international Ambient and Chant communities who are eager to participate in a more clearly named home for their music.
The Recording Academy calls the change "a win for meditative music of all stripes," and stated:
"Does 'Best New Age Album' fully encapsulate the spectrum of meditative and atmospheric music? Clearly, a larger blanket was needed — for artists ranging from traditional chant to beguiling ambient soundscapes and everything in between.

Thus, the Academy has renamed and redefined the GRAMMY field and category to celebrate all of the expansive genre: New Age, Ambient Or Chant.

In a world of enhanced awareness of mental health and wellness, immerse yourself in this sphere in all its multitudes — with a little help from the GRAMMYs."
Artists, to participate in this new, more inclusive evolution of the category, we encourage you to submit your new albums for consideration in the newly named "New Age, Ambient, or Chant" field. Note: a current voting member can submit your album even if you're not a member.
To impact our genres' and community's representation in the Recording Academy at an even deeper level, we encourage you to apply to become a voting member. More details about membership here.